AC Maintenance Near St. Pete, FL
When it comes to keeping your AC unit in good condition for the longest time possible, regular air conditioning maintenance will do the trick. Taking good care of it will prevent future problems and is the best way to catch any small issues before they handicap the entire unit and cause costly AC repairs. Total Air Inc. provides expert AC maintenance services in and around St. Petersburg, FL. Connect with us today to get your central AC tuned up and working well before the heat of summer rolls in!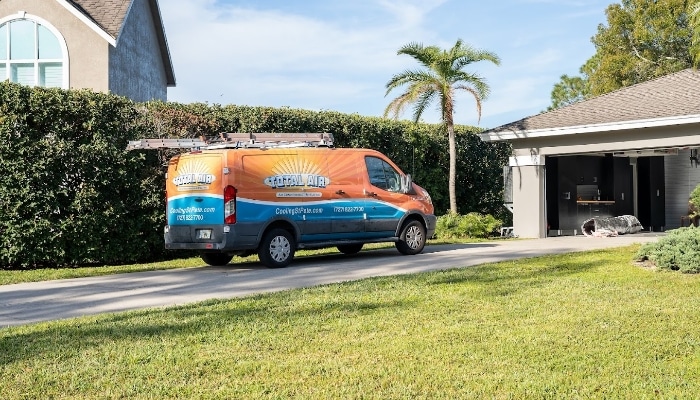 Air Conditioning Maintenance FAQs
How often should my home air conditioner be serviced near St Petersburg?
Experts agree that your AC system should be maintained once a year, in the spring. You want the service to be completed before the heat of summer. Air conditioners tend to fail when put under the highest strain, and the last thing you want is for your system to fail when the temperatures are excessively hot and humid.
How do I know if my air conditioner needs cleaning near St. Petersburg?
Cleaning and sanitizing your air conditioner on a regular basis is critical for overall efficiency and performance. There are a few tell-tale symptoms that your air conditioner needs to be cleaned right away:
Mold and mildew have grown on the outside vents
Dust and filth have accumulated on the filter
It is blowing hot air when it should be blowing cool air
The machine is puffing, wheezing, or rattling
The air conditioner is emitting a strong odor
It has been almost a year since it was cleaned
How can I avoid costly repairs on my home air conditioning system near St Petersburg?
With these basic maintenance techniques, you can stay ahead of any possible issues before they turn into a disaster.
Change Your Air Filter Regularly: Your air filter is an important component of your air conditioning system. The filter not only ensures clean, breathing air inside your house but also improves your system's operational efficiency.
Listen For Unusual Noises: Strange sounds are frequently caused by loose connections, excessive dirt or obstructions. Have unusual sounds dealt with as soon as you notice them.
Stay Up-To-Date On Maintenance: Not only does seasonal maintenance ensure your AC is working at peak performance, but it also ensures your manufacturer warranty stays valid so if you end up needing repairs that are normally covered by warranty, you won't be stuck footing the bill.
Air Conditioning Maintenance In St. Petersburg From Total Air Inc.
Usually, AC usage represents over half of your monthly electricity usage. Knowing this, it's important to make sure your unit works to its best so you avoid paying extra for utilities. Getting proper air conditioning maintenance is the best way to ensure the unit runs efficiently.
At Total Air in St. Petersburg, we always perform several actions during our maintenance visit, including:
Lubricate Moving Parts: Without enough lubrication, the moving parts of your cooling system will be working harder to produce the same amount of cold air, which will use more energy.
Check Filters: In order to keep your air as clean and free of pollutants as possible, your air filters should regularly be changed.
Review System Controls: Making sure your AC starts, operates, and shuts off correctly is the basics of air conditioning maintenance and should be taken seriously. Small noises or smells detected can be signs of repairs needed.
Check Electrical Components and Connections: Common breakdowns are caused by issues in the electrical components of the unit. Making sure all is right will protect you from electrical hazards.
Inspect Thermostat: To help you make sure you are not paying more than you should to your electricity provider, we will check on the thermostat and help you set it to the most efficient setting.
Clean Coils: The coils from the evaporator and condenser will collect dirt and dust, cleaning them will help your AC work better.
Verify Refrigerant Levels: For your St. Petersburg cooling system to work efficiently, it needs the perfect amount of refrigerant. Too little or too much can negatively affect the way it runs.
Check Blower Mechanisms: Any issues connected to your blower can affect the airflow and reduce your AC's efficiency by 15%.
Regular Maintenance and More As A Total Air Club Member
The time that you don't think you need air conditioning maintenance is usually when your unit is going to break down and leave you in need of emergency work. You can easily avoid this stressful situation by scheduling technicians to visit your St. Petersburg home and take a look at your cooling system regularly.
Total Air offers a maintenance club, called our Total Air Club, to help you find the best schedule to make sure your home stays at a bearable temperature, even when the temperature nears 100 degrees. Once you become one of our Preferred Customers, the agreement will give you access to all of our precision tune-ups twice a year with three exclusive discounts. You can benefit from parts and any of our air quality products with 10% off as well as 5% off all replacement parts. To thank you for your commitment to our company, you also receive priority service so you never have to wait long if anything with your cooling system goes wrong.
Total Air Maintenance Care
Air conditioning maintenance could damage your unit if not performed correctly by a professional. Total Air has all the experience and expertise needed to provide you with the best service all around the bay area. If you need air conditioning maintenance in St. Petersburg, Gulfport, Pinellas Park and Seminole, contact us today to schedule an appointment.