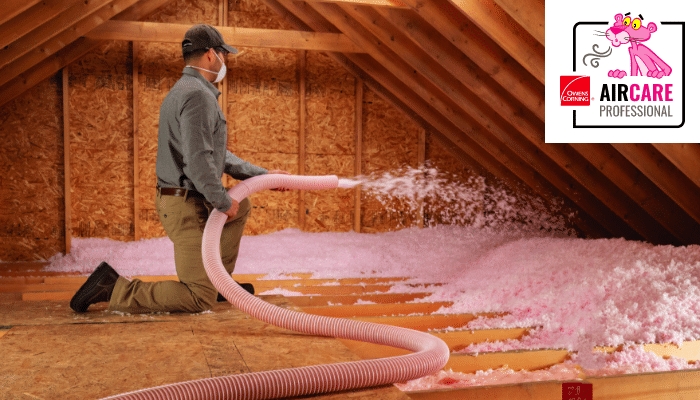 Seal Your Attic To Save Money!
Attic insulation is not just protection against cold weather. A properly sealed house is also going to let in less of that burning hot, St Pete air. This is great news for anyone who wants to spend less money cooling their home in the summer (or heating it in the winter.)
Whether you choose conventional fiberglass batts or state-of-the-art spray foam, Total Air does it all. And we mean that!
Due to the complexities of the materials used in these jobs, attic insulation is not something you want to tackle yourself. Instead, leave it to the pros at Total Air. Since 2003 we've been making St Pete a cooler place! Call (727) 822-7700 today and get that process started in your home!

A Trusted Company Plus A Trusted Brand
Total Air is an Owens Corning Certified Air Car Professional! We're proud to offer the Owens Corning® ProCat® Professional Loosefill Insulation for your home. This attic insulation features an advanced, new formula to keep your house protected against the climate and the critters. It's also quick and easy to install.
ProCat® Professional Loosefill Insulation will not absorb moisture; it is not a nutrient source for mold and fungi or a food source for pests. Not only does it make your home more energy efficient, but a properly insulated home is quieter! Best of all, ProCat® Professional Loosefill Insulation is guaranteed to maintain its insulating power for the lifetime of the home.
Research shows that almost every home in the United States is not properly insulated. Because it's not as fun or high profile as some home improvements, people try to cut corners on insulation. However, you'll eventually realize the importance of doing it right when you see how high your power bill can climb in the summer.
Make sure your attic is properly insulated to reduce wasted energy and help your HVAC system work its best. Call Total Air today to schedule a consultation.
New And Replacement Ductwork
You have regular maintenance scheduled for your HVAC system and even make sure to change the filters on a regular basis... but what about the biggest part of your system? Your ductwork is literally the largest component in keeping your house at the proper temperature. If it's old, leaky or simply beginning to fail, it can waste almost one third of the air it's moving. It also becomes a place to pollutants into the air your home.
Once again, Total Air is proud to partner with the industry leader here, as well. Owens Corning is not only the most trusted name in insulation, but it's also the best choice for air distribution solutions! Call (727) 822-7700 today to get the most out of your St. Petersburg, FL area home!