Learn More About Total Air Inc. In St. Petersburg, FL
Total Air, Inc. is a local HVAC company serving residents and commercial organizations around St Petersburg. Since our foundation in 2003, Total Air has worked with a variety of commercial and residential customers. Our company is owned by Aaron Freedman who has over 25 years of experience in the industry. He served in the United States Army and started his education in the air conditioning industry after he had completed his service. Aaron is passionate about his business and commits to only delivering excellent service to his clients.
You Can Count On Us
Total Air provides air conditioning service and repairs for both residential and commercial units. We understand the importance of a fully functioning unit and make any of your AC concerns a top priority. Our certified technicians have received training in the latest innovations in energy-efficient AC installation. Total Air is fully licensed and insured to assure you of trustworthy work.
We are proud to be a part of the St. Pete community. We are involved in a number of different community organizations that give back to the area in which we work and live. We also happily provide excellent financing to our clients to provide monthly payment options.
In addition to supporting our community, we are also always hiring from our community! Our team is actively hiring those with and without experience. Apply today to be a part of the Total Air team!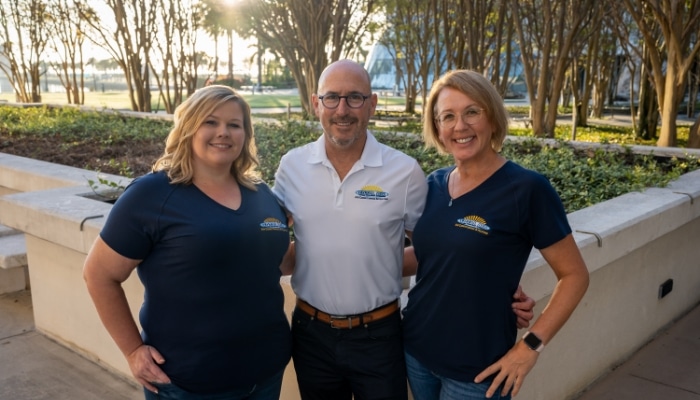 High Standards On Every Job We Do!
Operating since 2003, Total Air has become the preferred air conditioning repair and service company for hospitals, auto dealerships, medical centers, as well as other residential and commercial customers. We understand the air conditioning industry from top to bottom.
We specialize in a variety of industry practices, from standard maintenance to large installations. Our technicians are available for emergency service in St. Petersburg because while emergencies and inconveniences don't operate on your schedule, we do! We can perform air conditioning repairs on any brand system.
Large companies and homeowners continue to hire Total Air Inc. because we've built a reputation on providing honest, quality work and caring greatly about our customers' satisfaction.
We Believe in the Services We Provide
Have a question for us? The staff and technicians at Total Air are here to help! Give us a call at (727) 822-7700 to learn more about our services and receive a free estimate for your air conditioning needs.