St. Pete Mitsubishi Electric Ductless Mini Split Systems
In St. Petersburg's hot climate, it pays to have better options to improve your AC's efficiency and get more control over how you heat and cool your home. Mitsubishi's Electric ductless mini-split systems allow you to control your cooling bills while keeping everybody comfortable. Total Air Inc. is proud to offer the top quality ductless systems from Mitsubishi in Pinellas County!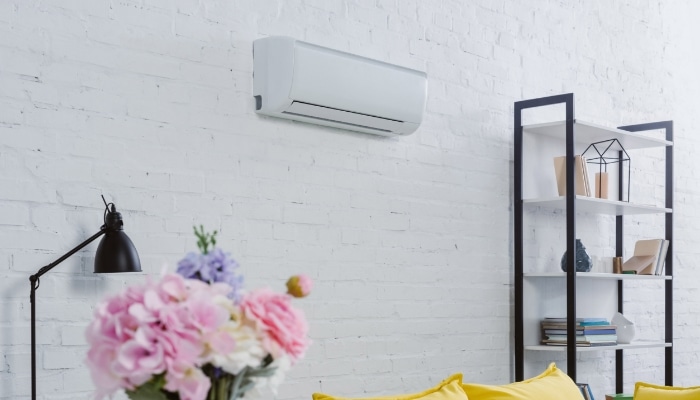 How Do Ductless Mini-Split Systems Work?
While many homes and businesses in St. Pete have forced air systems, they are not the only game in town. In some older homes, you may not have the ductwork in place or be able to easily install a new duct system. The Mitsubishi Electric ductless mini-split system is a great alternative to unwieldy and sometimes inefficient ductwork.
In a ductless mini-split system, you have an outdoor unit that is very much like a traditional central air conditioner. But, with a ductless mini-split system, you can distribute both air conditioning and heating throughout the building without ductwork. Instead, rooms have individual wall-mounted blowers that bring air directly in. Because air is being blown into each room, there is none of the energy loss you get with a ductwork system. Plus, it's easy for people to set the temperature to their personal liking in each room.
Single And Multi-Zone Options For Your St. Petersburg Home
The Mitsubishi Electric ductless mini split system allows you an excellent level of customization. A system based on zones gives you one-to-one control between the outdoor and indoor units, which makes for a very efficient system. And, that means that even in the hottest months, you are using only as much AC as you need to to keep comfortable, which can significantly cut down on your power bills.
A multi-zone ductless mini split system can connect anywhere from two to eight units, which lets you control the temperature independently in each zone of your home. So, if you have a formal living room that is only used for company, you don't have to spend money heating or cooling it except when needed. If only a couple of rooms in the house are used during the day but slept in at night, their temperature can be left alone until you want to turn it down for a comfortable night's sleep.
By adjusting rooms one by one, you can appeal to different users' preferred temperatures. No more fights between people who always feel cold and those who would prefer the AC at an icy cool temperature all year long. With a multi-zoned system, they can each get a comfortable temperature in their parts of the house.
Call Total Air For Mitsubishi Electric Ductless Mini Split Systems In St. Petersburg, FL
Total Air has been keeping St. Pete cool since 2003. We hold our certified technicians to the highest standards and keep up with the latest innovations in home heating and air conditioning.
We offer a 100% customer satisfaction guarantee and transparent, affordable pricing. Contact us today at (727) 822-7700 to discuss whether a Mitsubishi Electric Ductless Mini Split system is right for you!