Central Air Conditioning Installers Near St. Petersburg, FL
When your St. Petersburg or Pinellas County home is in need of a new air conditioning installation, look no further than Total Air Inc. Living in Florida has its benefits, but the hot summer temperatures ensure that you can't go long without a working AC. For top-quality AC replacement at the best price, you can count on us. Connect with us today for a FREE estimate on a new air conditioning system!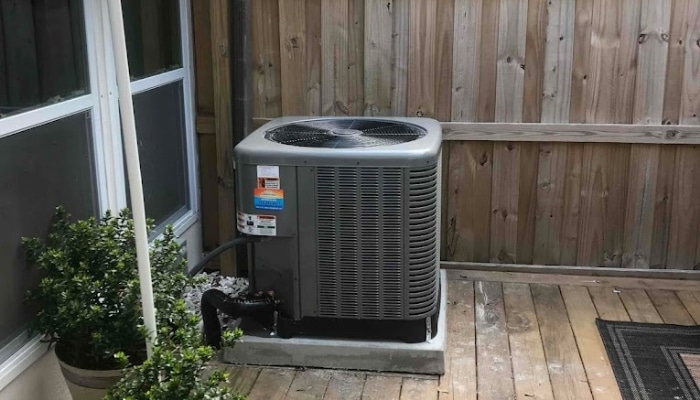 Air Conditioning Installations FAQs
How much does it cost to replace an air conditioner in Florida?
The average cost of installing central air conditioning ranges from $5,000 to $12,000. The overall cost of an air conditioner depends on a number of factors, including the kind of system, the SEER rating and the ducting. For example, most houses pay $7,000 to install a new 3.5-ton split system unit with a SEER rating of 16 and new ductwork.
Do I need a permit to replace my air conditioner near St Petersburg?
Yes. While not every home improvement project will necessitate documentation, installing a new HVAC system will. The major reason you need an air conditioning permit is that it ensures the equipment being installed in your house meets the government's energy efficiency criteria. SEER ratings (seasonal energy efficiency ratio) are given to ensure that the system is both safe and ecologically beneficial. The contractor must document how your home's equipment passes the inspection during the permit procedure.
What are the options when paying for a new home air conditioning system near St Petersburg?
Total Air offers a variety of financing options to meet your unique requirements. Our financing process includes a straightforward application procedure, quick approval and affordable monthly installments. We can also negotiate a reasonable interest rate for you, as well as explore the possibility of no-interest financing.
Do I Need New Air Conditioning Installation?
While it may seem like the only reason to replace your AC unit is when it is irreparably damaged, this simply isn't true. Sticking with your existing system might be the wrong choice because:
An outdated model might be costing you far more on your electric bill each month than a newer, energy-efficient model. If your system is more than 10 years old, you can greatly benefit from an upgrade. Most likely, your machine lacks the efficiency that newer models provide.
Old systems wear out over time. Eventually, without a complete overhaul, these units are no longer capable of the same efficiency as they were when new. But this isn't feasible when they could be simply replaced with a newer, better model for a similar cost. They could also be costing you a lot of money with repairs. Why keep putting money and energy into an older system that needs to be replaced?
If your AC is too small or too large for your home then you need a more appropriately sized air conditioning installation. A unit that is too small for the air volume it is cooling will run almost constantly while it struggles to maintain the desired temperature. A unit that is too large for your residence will kick on and off constantly, providing too much cold. Both of these scenarios can greatly increase your monthly energy bill.
Whether you're a homeowner with a single residential-sized unit or a large business with several commercial roof models, it's important to ensure they are up to date and not costing you more than is necessary.
Why Total Air Is The Preferred Choice In St. Petersburg
For over two decades, Total Air has been providing superior services to all of our commercial and residential clients in St. Pete, Gulfport, Seminole and throughout Pinellas County. As a trusted HVAC company who installs central air conditioning systems, we make sure to deliver quality installation services each and every time.
Connect with our expert team today for a complimentary estimate on a new AC for your home!