How Much Maintenance Does My Commercial HVAC Need?
It will vary depending on your system, but a good guideline is that your system should be checked at least twice a year. If you want to keep your equipment running at its best, you want to make sure Total Air sees your HVAC in the spring and in the fall. There are multiple factors to take into account so we tailor our services to your unique situation. This way the mild winters and wild summers don't get you down!
We specialize in commercial HVAC maintenance services, including:
Office buildings
Property management (10-15 tons and under.)
Retail spaces
Doctor's offices and medical buildings
Car dealerships
And more!
Like anything else, the more time and attention your give something before a problem, the smaller and less frequent the problems tend to be. Get in touch with us today to get on a program. You might be saving yourself an emergency HVAC repair down the road!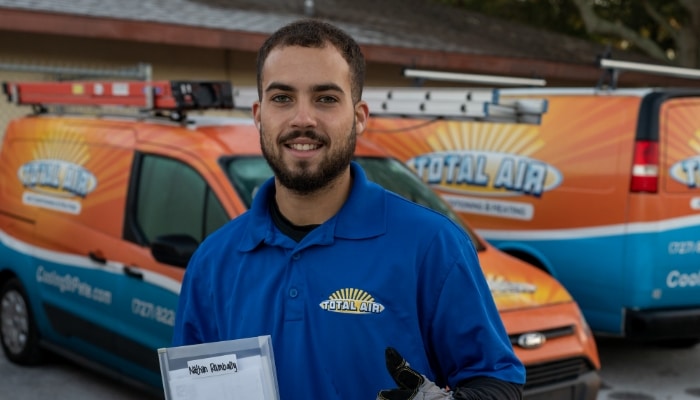 Generally, you are looking at 15-20 years if use from your HVAC equipment. The age of your space, square footage and even the way the building was made are going to have a huge impact on whether it hits the higher number or the lower one. Also, how often the machine runs will play a big part in determining the lifespan of the system. Just something as simple as how well the place is insulated will affect the unit's efficiency!
The other big determining factor in the lifespan of your HVAC equipment, ducts and other parts is proper maintenance. Total Air can replace your filters and perform other routine maintenance for you as often as you (or your lease) require!
We are still maintaining some of the first systems we ever installed! If you want that kind of longevity for your commercial property, call us today at (727) 822-7700 !
5 Ways To Get The Most Out Of Your Commercial HVAC
HVAC problems can happen to any system, but at Total Air, we know how to make them less likely. Here are a couple of recommendations for whether your unit is right out of the box or inching toward the scrapheap:
1.) Filters On! Replacing your filter on a regular basis is one of the most important things you can do. Not only does it extend the life of your equipment, but it also increases efficiency.
2.) Autopilot Off. Avoid ignition problems, short cycling, furnace lockout and other problems by scheduling routine maintenance for your pilot light.
3.) Belt It Out! Periodically checking for worn or stretched belts is a great way to avoid failure down the road.
4.) Clean Coils. Your HVAC has two different sets of coils. Dirt on either one could affect how well the unit performs and eventually cause damage. Regular maintenance is a good way to spring back in their step!
5.) Bear With It. You need to oil bearings and other moving parts regularly to minimize friction and maximize output. Having scheduled appointments a few times a year is a good way to make sure this doesn't slip your mind!
With regular HVAC maintenance from Total Air, all of these issues and more are addressed with our service. Call (727) 822-7700 today to set up regularly scheduled maintenance with Total Air!