Whole-House Air Purifiers Sold And Installed In St Pete
At Total Air, we live and breathe high-quality air in order to provide full home comfort services. A whole-home air purifier is a great way to make sure that you are getting the most out of your space. We sell and install top-of-the-line air purifiers for your St Petersburg area home.
How Do Air Purifiers Help My Home's Indoor Air?
Air purification systems remove many contaminants floating in your home's air, including:
Pollen

Dust Mites

dander

Smoke

Mold Spores
Food Smells
Human Waste Particles
And More!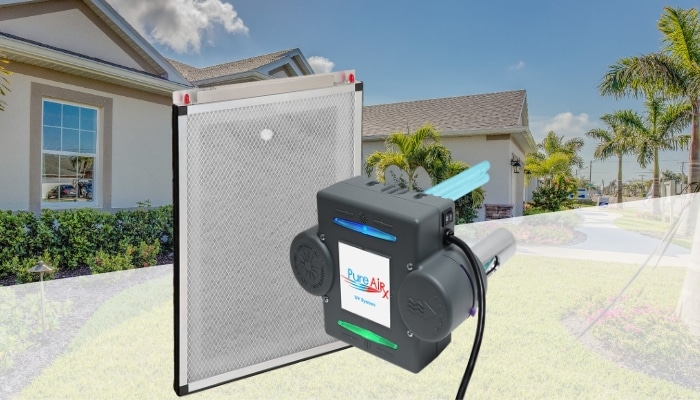 Do Air Purifiers Help With Dog Hair?
Yes! A whole-house air purifier helps remove pet hair and pet dander from the air in your home. You want to keep your furry friend in your heart, not your lungs. With an air purifier, you can get that "wet dog smell" under control. You can also give everyone, including your pets, healthier air to breathe.
For some people with pet allergies, the air purifier has been enough to allow them to be in the same room as the family's pet without the usual allergic reactions. Of course, the severity of the allergy is a big factor, and your allergies are a conversation you'd have to have with your doctor, but reducing the dander and other impurities in the air can be a tremendous help. A call to the specialists at Total Air is always a good way to start improving your home's air quality!
Are There Any Downsides To Air Purification?
Not really. Granted, there is an initial investment in the air purification system, but we don't want that to be a barrier for you. If the upfront costs are a concern, we encourage you to check out our financing options.
Total Air understands the importance of a comprehensive approach to your home's climate. We're not just looking to get your air to the right temperature. We want to make sure it's of the highest quality. Call Total Air today and let us help you breathe a bit easier!
Also, while you're thinking about whole-home filtration, don't forget to check out our UV Lights. Often people combine these systems together for even higher levels of protection. Call (727) 822-7700 to see how any of our indoor air quality products and services might fit into your home or office!