Reliable Residential AC Repair Near St. Pete, FL
In a place as hot as St. Petersburg, it's less than ideal to find out you need AC repair services. You need an air conditioning repair company that is both trustworthy and has specially trained AC repair technicians who can get the job done right the first time. At Total Air Inc, we stay up to date on the highest quality HVAC systems and technologies. Whenever you call, our fully trained and certified staff will be there focused and ready to complete the task at hand. And better yet, we are available 24 hours a day, 7 days a week whenever you need us!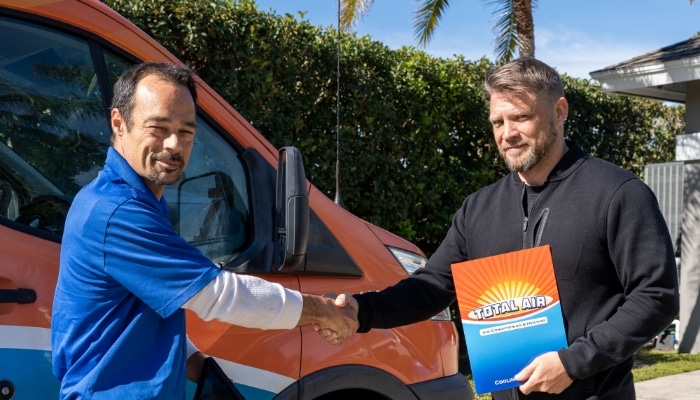 When To Call For AC Repair For My Home
Sometimes the trickiest part of air conditioning repair is deciding whether or not you need it. There are many things you should keep an eye out for at all times in order to stay proactive about your AC's condition. Some of these potential issues include:
An increase in your energy bills with no clear explanation.

An AC unit that is more than 10 years old.

Your home is too humid.

You have to dust extremely often.

The temperatures in your home don't seem to match the ones on your thermostat.

There are rooms or areas that are hotter or colder than others.

Your AC is leaking.

There are strange sounds or odors coming from your unit.
These are just some telltale signs that there may be something wrong with your air conditioner. If you let them pile up, it may result in expensive repairs or replacements. Staying on top of how your AC is holding up will help you save money and keep your home cool.
Why You Should Hire Total Air Inc. For AC Repair
It can be frustrating to realize your AC unit is not properly cooling your home. Although it may be tempting to try and save money by not calling an air conditioning repair technician and attempting to fix the air conditioner yourself, you run the risk of damaging your system further. This will cost you more in the long run than you stand to save with DIY. Don't subject yourself to an even longer and more expensive process - give Total Air a call. We have been keeping homes in St. Petersburg cool since 2003.
Our certified technicians are held to the highest standard of courtesy and respect. This means that whenever you call us, you will be greeted on time by a friendly, focused professional. When you have an AC emergency, you don't want to deal with an unprepared or ill-mannered technician. With Total Air, this is never an issue!
Maintaining Your Air Conditioning
Air conditioning repair is not the only thing you should consider for your St. Petersburg home. AC maintenance should also be a priority as it will prevent potential breakdowns in the future. Our professionals are extremely knowledgeable and can help you with the upkeep of your air conditioner. Here is some of what you can expect from a maintenance service from a technician at Total Air:
System controls review, in which we will make sure all the switches and devices are working properly

Filter check

Parts lubrication

Electrical connections checkup

Thermostat evaluation

Clean coils

Check the refrigerant charge

Inspection of blower mechanisms
Our technicians will also provide you with tips on how to cut maintenance costs and keep your St. Petersburg home cool, such as:
The installation of ceiling fans

Cleaning your filters at least once a month

Cut down any grasses, weeds, or brush near your unit to keep clean air flowing into it
Total AC Repair
At Total Air, we specialize in AC repair for any make or model system you've got. Our technicians are available for emergency service in Pinellas County 24/7. While emergencies and inconveniences don't operate on your schedule, we do!
Our local AC repair company believes in the services we provide which is why we offer a 100% customer satisfaction guarantee with straightforward, affordable pricing. If you are in the St. Petersburg area, don't hesitate to call us at (727) 822-7700 for fast and reliable AC repair service now!