UV Light Air Purifiers in St. Petersburg, FL
A UV Light Air Purifier operates silently and continuously. Once these germicidal purifiers are installed, they go to work sterilizing almost 100% of germs, viruses, mold spores, bacteria, fungi and other harmful microorganisms as they pass through your HVAC system.
You'll only notice how fresh your home smells – and how reassuring it is to keep everyone around you safe. Total Air Inc. can easily install one into a new or existing air conditioning system giving you the freshest air possible. UV light purifiers even help eliminate odors from pets! Call (727) 822-7700 today to get more information.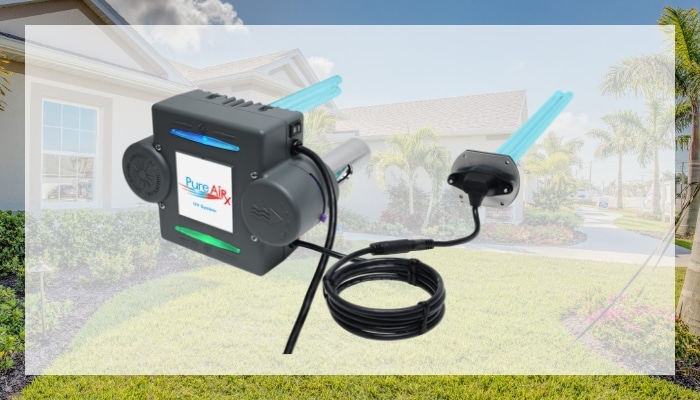 Wait - You Install An Actual Light To Kill Germs?
Yes! We recommend and install the Ductless Mini Split PHI, an air purification system with PHI-CELL® technology from RGF®. These fantastic little units reduce airborne and surface bacteria, viruses, odors and mold spores to help keep you and your loved ones safe.
The Ductless Mini Split PHI uses purification technology that actively targets pollutants. This means that when someone sneezes in your home, the germs are immediately reduced without going through a filter. And, because the Ductless Mini Split PHI is installed in your HVAC system, you can be confident it is working throughout your entire house.
Total Air isn't just limited to changing the temperature of your air. We are TOTAL Air. Let us help you with the quality of air too! Call (727) 822-7700 today to get more information about how a UV light air purifier can improve your home!
Is A UV Germicidal Purifier Right For My Space?
The Ductless Mini Split PHI – Air Purification System can be installed on any existing mini-split unit. The RGF® systems even work without central air conditioning!
Home Applications – Notice the difference in air quality immediately, improving the quality of life in your home.
Office Applications – Numerous studies make a direct correlation between indoor air quality and the satisfaction and productivity of employees. That's before considering the benefits of a reduction in sick leave and the noticeable difference your customers feel when they walk into your office.
Hotel Applications – One of the biggest complaints you read about in reviews is the bad smell in hotel rooms. Not only does this put off regular customers, but it also affects all those who do their research before coming in. This solution could save you a fortune in opportunity costs while boosting you your occupancy rate for a comparatively small investment!
Call the pros making St Pete a cooler place today to get more information on this exciting, new technology: (727) 822-7700