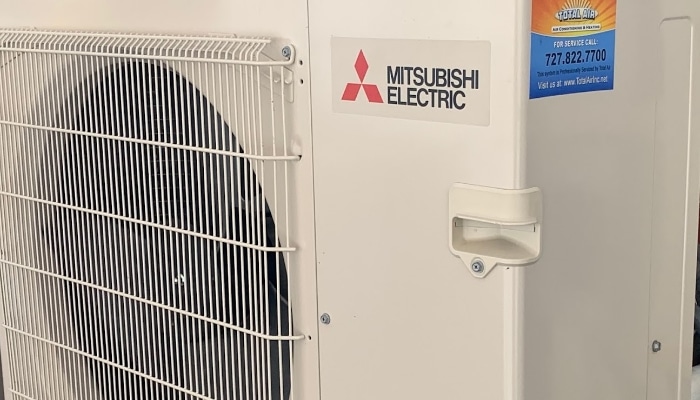 The Most Advanced Home Cooling And Heating Technology
Announcing the Mitsubishi Electric Diamond Comfort System, the most advanced whole-home cooling and heating technology ever! The Diamond Comfort System offers unparalleled customization and scalability to provide homeowners a complete, zoned comfort solution that replaces traditional HVAC systems.
At the core of the Diamond Comfort System is the MVZ Multi-Position Air Handler, the latest in Mitsubishi Electric cooling and heating technology. Call Total Air Inc. today to learn more about this incredible system for your St Pete area home!
Can The MVZ Replace A Traditional HVAC?
The MVZ allows homeowners to upgrade from virtually any traditional HVAC system without replacing the existing ductwork. Homeowners may also choose to combine a couple of MVZ units to take care of separate areas for an efficient, whole-home solution. You can even step up to a true zoned comfort solution that includes an MVZ for the main floor and a ductless unit for each individual room upstairs. To accomplish this, the MXZ Outdoor Unit is paired with the MVZ for larger zones allowing homeowners to add up to seven additional ductless products to address smaller zones for individualized comfort control.
The Mitsubishi Diamond Comfort System Offers You Flexibility
Products include:
The recessed SLZ ceiling unit.
The wall-mounted, and versatile MSZ.
The MFZ floor-mounted unit.
The hidden, low-profile SEZ horizontal ducted indoor unit.
The indoor and outdoor products of the Diamond Comfort System work together to create personalized comfort in any space of the home while quietly saving you up to 40% versus traditional systems.
Replace that old furnace during a remodel and add additional comfort zones, or build an uber-efficient comfort system into new home construction.
The Diamond Comfort System offers the best of ducted and ductless products, enabling a true whole-home zoned comfort solution. Regardless of your home's configuration, there is a Diamond Comfort System to match your comfort objectives, home style, and budget.
For more information about the Diamond Comfort System, call (727) 822-7700 to speak with the pros making St. Pete a cooler place!