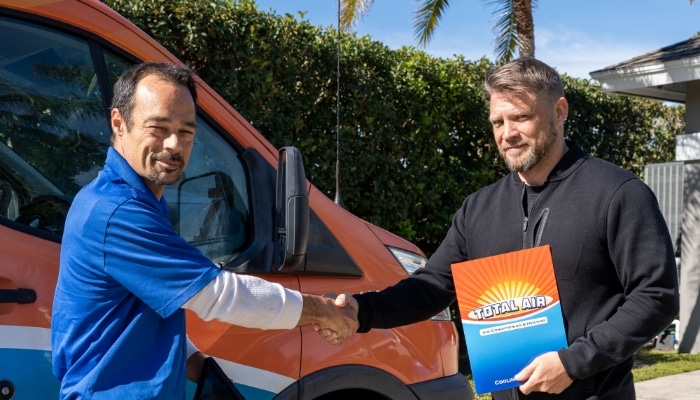 How To Tell When Your AC Needs Help!
It's easy to take air conditioners for granted. But, when you aren't careful, your AC can break down completely, leaving you to sweat without the luxury of a cool and comfortable home. During the summer months, all that Florida heat and humidity can put a serious strain on our AC systems, which can lead to overuse and malfunctions. While adding a bill from your local air conditioning repair company might not sound very appealing, putting off HVAC problems always makes them worse. The comfort pros at Total Air are happy to walk you through 5 signs it's time to call an air conditioning repair company!
Look Out For These Warning Signs
Simple fixes now can save you time, money, and hassle later. So unless you're prepared to live without air conditioning or pay for a replacement unit, you need to know the warning signs of a busted AC. Be on the lookout for these signs that it's time to have your home air conditioner repaired by a professional -- before it's too late.
There's a weird smell coming from your unit or ducts.

Blasts of musty-smelling air from your AC ducts are a sure sign of mold. A metallic burning smell from your unit could indicate burnt-out insulation or wiring. Either way, you should get the smell checked out right away for your safety and health.

You see moisture inside your vents or ducts.

Moisture in your ducts means humidity is leaking into your home. This could be caused by broken parts, leaky ductwork, or an improperly functioning unit. These issues can cause your system to work harder than it should, leading to large repairs or a complete shutdown. An air conditioning service technician will scope out the issue and determine how to seal up any leaks.

You're not getting any cold air.

No cool air is the most obvious sign that it's time to call in the local air conditioning repair company. But don't worry- a system's failure to cool or even turn on doesn't mean that it's bitten the dust for good. There are a number of reasons why a central AC has stopped producing cool air, from something serious like a condenser to something simple like a clogged filter. And remember: change the filter before you call air conditioning contractors.

Your unit is making more noise than usual.

Abnormally loud buzzing noises or high-pitched screeching coming from your AC could indicate loose connectors in the system or foreign objects interfering with the fan. Call in an HVAC company before the damage gets any worse.

Your energy bills suddenly spike.

Air conditioning can use up a lot of energy, but a sudden and dramatic spike in your bills could indicate that the system isn't working the way it should and might be eating up more electricity in the process. Otherwise, it may simply be time for an upgrade: high-efficiency air conditioners can reduce energy use by 20% to 50%, lowering your bills along with it.
PRO TIP!
Even when your system is working fine, it's essential to have regular maintenance done to ensure it continues functioning as it should. Regular AC tune-ups performed in the spring:
Keep your system from breaking down
Enhance your unit's performance to keep your home cooler
Make your system run more efficiently
Extend the lifespan of your AC so you don't have to replace it as soon
Total Comfort from Total Air
When in doubt, have an air conditioning repair company take a look at your AC system, or even better, schedule a routine inspection every fall and spring. A little bit of regular maintenance often goes a long way. If you have a question about your St Pete home's air conditioning system, give the team at Total Air a call at (727) 822-7700 . We're happy to help you troubleshoot your AC issue first before sending a tech out to assist.