HVAC Services for St. Petersburg, FL Area Companies
At Total Air Inc., we provide expert commercial HVAC services to businesses and industrial buildings throughout the Pinellas County area. When assessing the HVAC needs of your company, it's important to recognize that commercial building requirements are often different than residential requirements. Most businesses are larger than residential buildings, so the systems required for heating, cooling, and ventilation must also be larger.
As a commercial HVAC company, we provide the appropriate technology and equipment to larger facilities to ensure comfort for anyone who spends time in the building. At Total Air, this means making sure your business has the most up-to-date HVAC technology to heat or cool your Largo building in a cost-efficient manner.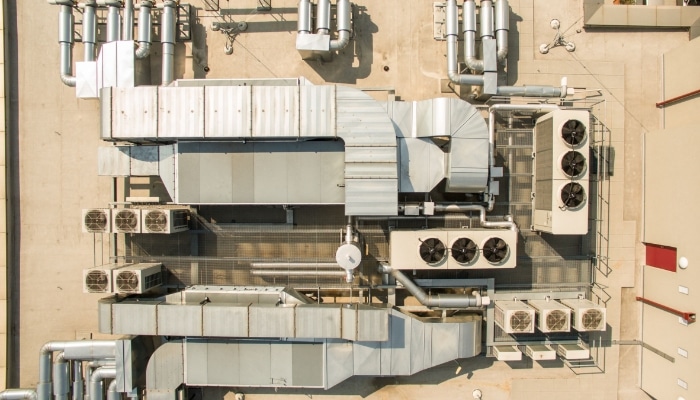 Our quality commercial HVAC company will be able to assess your St Pete area business's needs, consult with you about which equipment is most appropriate, and install it for you quickly and efficiently.
The skilled technicians at Total Air will examine your system and determine why it has stopped working before we fix the problem with speed and skill. And we are open 24/7 to be available for you.
In Florida, where the winters are mild and the summers are blazing hot, a working air conditioning system is crucial to staying comfortable, no matter what type of commercial space you have. It is important that routine maintenance is performed to avoid costly repairs to your system.
Things To Consider When Determining If Your HVAC Might Need Work
Does the system power on and off correctly? Does it operate correctly?
Is the thermostat operating correctly? Is it programmed with the most energy-efficient settings?
Is the filter being changed regularly to ensure clean air?
Are moving parts properly lubricated?
Are the coils clean?
Is proper airflow occurring?
Is the level of refrigerant correct?
Are electric wires connected properly? Are wires secure within the unit?
Are air ducts sealed tight? Do they need to be replaced?
Replacements Or Upgrades
General wear and tear is to be expected over time, but sadly, simple repairs won't always get the job done. Sometimes the system needs to be replaced or upgraded to restore optimum air quality, temperature control and energy efficiency to your building. As a commercial HVAC company, we'd love to recommend which option is best suited for your ST Pete area commercial space.
Not only does Total Air provide all the right services for your industrial space, but it also has affordable prices that will fit your budget. Call Total Air Inc. at (727) 822-7700 to talk to a quality, fully licensed professional now!